Dia Duit, Cairde (Good Day, Friends),
Before I get started, I would like to pay tribute to a very dear friend and a wonderful person who has passed on. This issue of our newsletter is dedicated to the memory of Teresa Bohan of Lough Rynn, Mohill, Co. Leitrim, who passed away on Sunday, October 5th, after being unwell for about a year.
Teresa was the second person we met on our first trip to Mohill in April 1998. We had stopped at a local restaurant for breakfast and learned that the owner was John Reynolds. As we sat talking to him about Reynolds genealogy, Teresa walked past on her way to catch a ride to a football match in Carrick-On-Shannon. Little did we know that, for many years, her family had been the caretakers of the Leitrim Estate at Lough Rynn. John called out to her, introduced us, and asked her if he could take us out to the Reynolds castle ruins located on the estate property.
Teresa was a very sweet and soft-spoken person who was a friend to everyone. She was very well known because of her years of involvement with the G.A.A., the Gaelic Athletic Association. Always happy and smiling, you would never hear her say an unkind word about anyone. Teresa will be sadly missed by all who knew her. Our sympathy goes out to her family, especially to her son, Gerry Bohan, our dear friend and associate, and author of 'The Leitrim Connection'.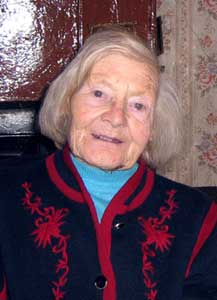 Teresa Bohan
Now that we have finished all of our canning, it is time to start cooking those hearty fall and winter recipes for soups, stews and casseroles. Included at this time are
Dublin Coddle
,
Irish Shepherd's Pie
and
Guinness Stout Chicken
. I have also added some Halloween cupcakes to make for your children's pleasure.
I found the cutest book of amazing cupcake decorating ideas for any occasion, which is called
'Hello, Cupcake!'
. I will occasionally include some of these clever designs for upcoming holiday treats. I have written an article about the
history of Irish whiskey
, including the most famous and enduring companies in the Irish Republic - Jameson's, Power's and Roe's, as well as Northern Ireland's Bushmill's Whiskey.
We have received some interesting submissions since our last newsletter. One was from Peter Heaney of Lough Rynn. We learned that his grandmother's maiden name was Margaret Reynolds. We were very excited to hear that news because one of Terry's great aunts had that name, and maybe she is the same person.
We also heard from Ronan Gallagher, a local film maker from Lough Errew in Rynn. He had just released a documentary on John McGahern called 'Three Days In Summer'. The film is about the life of one of Ireland's most famous authors of recent times, who was known both nationally and internationally, especially for his beautiful descriptions of Ireland.
The film was made in association with the University of Ireland, Galway. Ronan's 'Three Days In Summer' is also going to be screened during the
Clones Film Festival
at the Courthouse in Clones, Co. Monaghan, Northern Ireland, as part of an evening with an Irish literature theme.
Two other films in the show will be 'Nead an Dreoilín / The Wren's Nest' and 'Blood Relations' the documentary on Pat McCabe as recently shown on RTE. The screening will take place in the Courthouse on Thursday 23rd October Bank Holiday weekend 2008 at 8 pm. The Clones Film Festival is Ireland's fastest growing film festival, and is being held this year over the October Bank Holiday from October 22nd through 26th. For more information please click on the link above.
LittleShamrocks.com has reached another important milestone, being that we now have over 200 pages of content on our web site. Our most popular searched page is
Irish Cakes and Frostings
, with
Irish Cookies
running a close second and
Irish Appetizers
in third place. There has also been a lot of interest in the articles I wrote over the summer.
It is very exciting to see that our visitors come from almost one hundred countries around the world (which varies slightly from month to month), so we are still having excellent results with our high traffic ranking. I hope you will enjoy the new recipes and the other new items on LittleShamrocks.com.
Until next time...
Sláinte,
Tyna

Disclaimer: LittleShamrocks.com is an affiliate website that receives commissions from sales of the products listed. We have purchased and sampled many, but not all, of the products on these pages.

© Copyright LittleShamrocks.com. All Rights Reserved.