Mrs. Milman's Dark Chocolate Frosting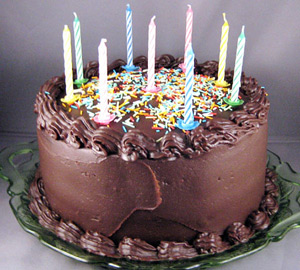 As seen on the Martha Stewart Show
My sister is a total chocoholic, especially for dark chocolate. I made this recipe for her recent birthday. This is a dark, fudgy frosting, and she loved it!
2 12 oz. Packages of Semi-Sweet Chocolate Morsels
1 Quart Heavy Cream
Using a medium saucepan, pour in the cream and morsels. Stir constantly for 30 minutes until chocolate is melted and mixture becomes thick.
Transfer into a wide metal bowl and refrigerate for two hours, stirring every 15 minutes. Frost cake immediately.
This recipe makes 6 cups, which is enough for a 3 layer cake.

Disclaimer: LittleShamrocks.com is an affiliate website that receives commissions from sales of the products listed. We have purchased and sampled many, but not all, of the products on these pages.

© Copyright LittleShamrocks.com. All Rights Reserved.