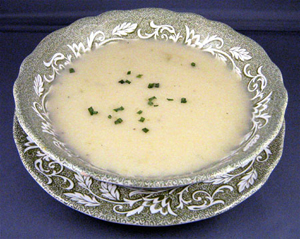 From the Kitchen of Mary Lydon
Dunsany, Co. Meath, Ireland
1 Heaping Cup Potatoes, peeled and diced
1 Heaping Cup Leeks, diced
1 Onion, diced
2 Stalks Celery, diced (optional)
2 Tablespoons Butter or Margarine
1 Tablespoon Cooking Oil
2 Tablespoons Flour
2 3/4 Cups Chicken Stock
2 Tablespoons Cream
Bouquet garni*
Salt and pepper to taste
Garnish: chopped chives or parsley
In a large saucepan, heat butter and oil; add vegetables and sauté for 5 minutes. Do not brown. Add stock and seasoning; bring to a boil, reduce heat, cover and simmer gently for 30 minutes until vegetables are soft.
Puree in a blender or with an electric mixer. If too thin, return to pan; blend flour with a little water and whisk into soup. Bring to a boil, then simmer for 5 minutes to thicken.
Serve in warmed soup bowls with croutons, melba toast, brown bread or rolls. Garnish with chopped chives or parsley. Yield: 4 servings
*Bouquet Garni:
1 bay leaf, 3 sprigs of thyme, 4 large sprigs of parsely (including stalks), one 4 inch piece of celery stalk with leaves, two 4 inch pieces of leek (green part).
Place the bay leaf, thyme, parsley and celery on one piece of green leek. Cover with remaining piece of green leek. Tie securely with fine string, leaving a length of string attached so that the bouquet garni can be easily retrieved.

Disclaimer: LittleShamrocks.com is an affiliate website that receives commissions from sales of the products listed. We have purchased and sampled many, but not all, of the products on these pages.

© Copyright LittleShamrocks.com. All Rights Reserved.