No-Bake Layered Ice Cream Cake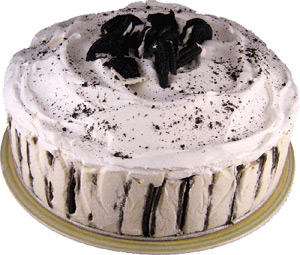 My granddaughter loves ice cream, so I chose to make this cake for her recent birthday.
15 Chocolate and Cream Sandwich Cookies (like Oreo)
1 Tablespoon Milk
8 or 9 Ice Cream Sandwiches
3 Flavors of Ice Cream, one pint of each flavor
1 Container of Frozen Whipped Topping, thawed
Coat bottom and side of a 10-inch round spring form pan with nonstick cooking spray. Line side with waxed paper, using spray to help adhere to pan. Trim paper to height of pan.
Finely crush 12 of the cookies in a food processor. Add milk; pulse just until mixture holds together. Set aside.
Unwrap 4 ice cream sandwiches at a time. Working quickly, cut each in quarters. Stack strips of sandwiches on end, packing them snugly together, around waxed paper lined pan. Repeat with remaining sandwiches to form a stand-up edge. Spoon cookie crumbs into center of pan; press firmly over bottom. Freeze 1 hour.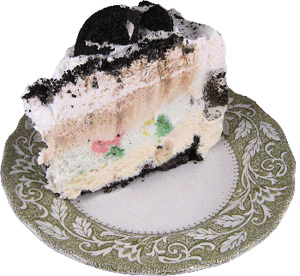 Remove all 3 flavors of ice cream from freezer and let soften for 15 minutes at room temperature. Transfer the ice cream, one flavor at a time, into a small bowl and stir until good spreading consistency but still firm. Remove the pan from the freezer and spread the three layers of ice cream, spreading each layer level. Top with thawed whipped topping, swirling top decoratively. Crush the remaining 3 sandwich cookies and sprinkle over the cake. Return to freezer; freeze overnight.
To serve, remove side of pan, then waxed paper. Place on a cake plate and cut into wedges. Yield: 12 servings

Disclaimer: LittleShamrocks.com is an affiliate website that receives commissions from sales of the products listed. We have purchased and sampled many, but not all, of the products on these pages.

© Copyright LittleShamrocks.com. All Rights Reserved.