Chocolate Caramel Cookies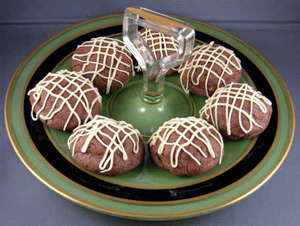 3 Cups All-Purpose Flour
2/3 Cup Unsweetened Cocoa Powder
1/2 Teaspoon Baking Soda
1 Cup White Sugar
1 Cup Light Brown Sugar, firmly packed
1 Cup Salted Butter, softened
2 Large Eggs
2 Teaspoons Vanilla Extract
1 Cup Miniature Semisweet Chocolate Chips
1 Cup Finely Chopped Walnuts
1 Bag Rolo Caramel Filled Chocolate Candies
Preheat oven to 400F.
In a medium bowl combine flour, cocoa and baking soda. Set aside. Combine sugars in a large bowl. Using an electric mixer, blend in butter, scraping down the sides of the bowl.
Add eggs and vanilla, and beat at medium speed until light and fluffy. Add the flour mixture, chocolate chips and walnuts, and blend at low speed until combined. Batter will be very stiff. Take one Rolo in the palm of your hand and cover it with a heaping tablespoonful of dough.
Wrap the dough around the Rolo, completely encasing it and forming a 2 inch diameter dough ball. Place balls on ungreased baking sheets, 2 inches apart. Bake 8 to 10 minutes. Cool on pan 2 minutes, then transfer to a cool, flat surface.
Yield: 2 1/2 dozen

Disclaimer: LittleShamrocks.com is an affiliate website that receives commissions from sales of the products listed. We have purchased and sampled many, but not all, of the products on these pages.

© Copyright LittleShamrocks.com. All Rights Reserved.