Irish Raspberry Vanilla Cake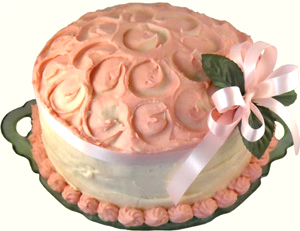 3 Cups Cake Flour
1 Tablespoon Baking Powder
1/2 Teaspoon Salt
1/4 Teaspoon Baking Soda
1 1/2 Cups Butter, softened
1 1/4 Cups Sugar
2/3 Cup Milk
1 1/2 Teaspoon Vanilla
4 Large Eggs
1 Cup Seedless Red Raspberry Jam
Preheat oven to 350F.
Grease and flour three 9-inch round cake pans generously. Mix cake flour, baking powder, salt and baking soda; set aside. Beat softened butter and sugar in large bowl with electric mixer on high speed until fluffy. Beat in flour mixture, milk, vanilla and eggs on medium speed until blended, scraping bowl occasionally. Beat 2 minutes longer. Spread batter evenly into prepared pans. Bake 19 to 23 minutes or until toothpick inserted in center comes out clean. Cool 10 minutes; remove from pans to wire rack. Cool Completely.
Raspberry Cream Frosting
2 Cups Butter, at room temperature
1 Teaspoon Vanilla
2 lb Powdered Sugar
1 Cup Raspberry Syrup
Beat butter and vanilla in mixer bowl with electric mixer until light and fluffy. Gradually add powdered sugar and syrup; blend until well combined. Place 1/2 cup frosting aside for decorating cake.
Level cake layers as necessary. Cut each cake horizontally to make two layers by marking the side of cake with toothpicks and cutting with a long, thin serrated knife. Place 1 layer cut side up on serving plate, spread with 1/3 of raspberry jam to within 1/4 inch of edge. Top with other half of layer, cut side down. Spread with raspberry cream frosting. Repeat with remaining layers. Frost the sides and top of cake. Pipe remaining frosting to decorate the cake. (I added a few drops of red food coloring for contrast against the pale pink cake). Refrigerate cake to set frosting.
Allow cake to stand at room temperature 10 minutes before serving. Garnish with fresh raspberries, if desired.

Disclaimer: LittleShamrocks.com is an affiliate website that receives commissions from sales of the products listed. We have purchased and sampled many, but not all, of the products on these pages.

© Copyright LittleShamrocks.com. All Rights Reserved.