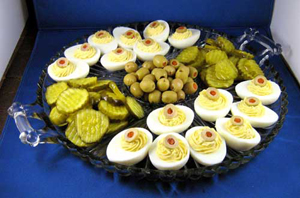 1 Dozen Hard Cooked Eggs, peeled and chilled
1/2 Cup Mayonnaise
2 Teaspoons Cider Vinegar
2 Teaspoons prepared Mustard
1 Tablespoon Sugar
1/4 Teaspoon Salt
Dash Pepper
Halve the eggs lengthwise; remove yolks and mash with next 5 ingredients. Using a pastry bag and star tip, pipe the mixture into the cavities of the whites.
Garnish with a pinch of paprika, thinly sliced green stuffed olives or a small spring of parsley. Yield: 24

Disclaimer: LittleShamrocks.com is an affiliate website that receives commissions from sales of the products listed. We have purchased and sampled many, but not all, of the products on these pages.

© Copyright LittleShamrocks.com. All Rights Reserved.