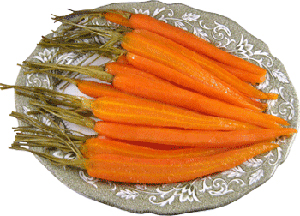 1 Cup Orange Juice
4 Tablespoons Granulated Sugar
5 Tablespoons Butter
1 Pinch Red Pepper
15 Carrots, peeled and halved lengthwise with stalks still attached
Preheat oven to 350F.
Place the juice, sugar, butter and red pepper in a saucepan and simmer until butter and sugar have melted to make a glaze. Place carrots into an oven proof dish and pour over the glaze. Bake until the carrots are tender. Yield: 12 servings

Disclaimer: LittleShamrocks.com is an affiliate website that receives commissions from sales of the products listed. We have purchased and sampled many, but not all, of the products on these pages.

© Copyright LittleShamrocks.com. All Rights Reserved.