Sweet & Spicy Snack Mix (Microwave Recipe)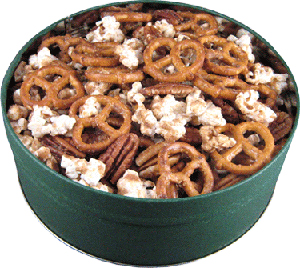 3 Cups Plain Popcorn
2 1/2 Cups Mini-Pretzels
1 Cup Pecan Halves
1/3 Cup Packed Brown Sugar
1/2 Teaspoon Ground Cinnamon
1/4 Teaspoon Ground Red Pepper
1/4 Cup Butter
Place butter, brown sugar, cinnamon and red pepper in a 4 quart microwavable bowl. Microwave at HIGH 1-1/2 minutes or until bubbly. Remove from oven; stir in remaining ingredients and mix well. Microwave at HIGH 1 to 2 minutes.
Remove from oven and stir to coat mixture evenly. Spread out on waxed paper and cool completely. Yield: 6 cups
Instructions to give as a 'Gift in a Jar':
Layer the popped corn, the pretzels and pecans in any order in a 2-quart storage jar. Place the brown sugar, cinnamon and red pepper in a small plastic twist tie bag and place in the top of the jar. Close with cover. The butter, which is not provided in the jar, is put into a bowl with the spices and microwaved, then mixed with the other ingredients. Don't forget to give the recipient instructions to prepare the recipe.

Disclaimer: LittleShamrocks.com is an affiliate website that receives commissions from sales of the products listed. We have purchased and sampled many, but not all, of the products on these pages.

© Copyright LittleShamrocks.com. All Rights Reserved.