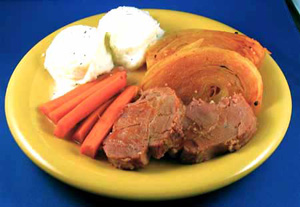 With
Mashed Potatoes and Parsley Sauce
2 to 4 lb
Donnely's Boiling Bacon (Cured Pork Loin)
48 oz Can Tomato Juice
48 oz Water
1 Medium Onion, cut in wedges
1 Clove Garlic, minced
1 Stalk Celery, quartered
1 Teaspoon Black Peppercorns
1/2 Teaspoon Crushed Thyme
1 Medium to Large Head of Cabbage, cut into wedges
1 lb Carrots, peeled and quartered
Place bacon in a large Dutch oven, cover with tomato juice and water. Add onion, garlic, celery, peppercorns and thyme. Bring to a boil; reduce heat, cover and simmer 3 to 4 hours until tender.
Remove meat from pot, keep warm. Add carrots and cook 10 minutes. Add cabbage wedges and cook 20 minutes longer. Remove vegetables with a slotted spoon to a serving platter. Cut meat into thick slices and serve with cabbage, carrots and mashed potato. Spoon parsley sauce over potato.

Disclaimer: LittleShamrocks.com is an affiliate website that receives commissions from sales of the products listed. We have purchased and sampled many, but not all, of the products on these pages.

© Copyright LittleShamrocks.com. All Rights Reserved.