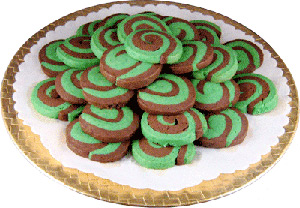 1 1/4 Cups Butter, softened
1 Cup Packed Brown Sugar
1/2 Cup Sugar
2 Eggs
1/2 Tablespoon Vanilla Extract
4 Cups All-Purpose Flour
1 Teaspoon Baking Powder
1 Teaspoon Salt
1/2 Teaspoon Baking Soda
2 Squares Unsweetened Chocolate, melted and cooled
Green Gel Food Coloring
Preheat oven to 375F.
In a large mixing bowl, cream butter and sugars. Beat in eggs and vanilla. Combine flour, baking powder, salt and baking soda; gradually add to creamed mixture. Divide dough in half. Tint one portion green. Stir chocolate into other portion. Wrap each portion in plastic wrap; chill for one hour.
For spiral cookies, divide chocolate and green portions in half. Roll out each portion between waxed paper into a 9 x 6 inch rectangle. Refrigerate for 30 minutes. (Repeat for remaining portions.) Remove waxed paper; place one green rectangle over a chocolate rectangle and trim if necessary. Repeat for remaining portions or reverse colors if desired.) Roll up tightly jelly-roll style, starting with the long side. Wrap in plastic and chill for two hours. Repeat.
Unwrap and cut spiral doughs into 1/2-inch slices. Place one inch apart on ungreased baking sheets. Bake at 375 for 10 minutes. Remove to wire racks to cool.
Yield: 3-1/2 dozen spiral cookies.

Disclaimer: LittleShamrocks.com is an affiliate website that receives commissions from sales of the products listed. We have purchased and sampled many, but not all, of the products on these pages.

© Copyright LittleShamrocks.com. All Rights Reserved.