Our Summer 2007 trip to Ireland came to an end on July 11th. The Lydon's put us up in another one of their self-catering accommodations in Co. Meath. We had gone to Dublin to see Il Divo in concert at The Point. We were locked out of our car at Blanchardstown shopping center.
In Co. Leitrim, we had never seen our little Mohill so busy. We met Tina and Tim Slevin of Coolabawn House, and Jim and Trish Legatt from Shannagh B & B. There were several other things we did that were not previously mentioned. Our dear friend, and Gerry's mother, Teresa Bohan, was honored twice during our stay. She was acknowledged at the football stadium in Carrick as one of the first Presidents of the G.A.A., the Gaelic Athletic Association. Along with another lady, Teresa was asked to cut the ribbon at the grand opening of the Shrub Tub in Drumlish, Co. Longford. A former employee at the Rynn Estate and friend of the Bohans, had opened a new florist shop and garden center. There were many local dignitaries present, including Mr. Kelly, a politician, who shook my hand and wanted my vote...Haha!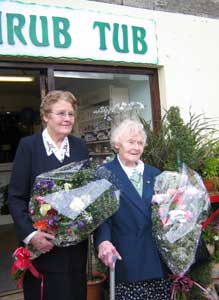 The G.A.A. also had a national festival for the under 14 boys and girls football. "Féile Peil na nOg" is a national movement with the primary objective of facilitating and enabling the personal, social and cultural development of young people. It also emphasizes cultural and community activities, leadership and training through sport.* This festival welcomed teams from throughout the world, including one from Philadelphia. We had met a grandmother and aunt of one of the Philadelphia girls who had come into O'Brien's Tavern.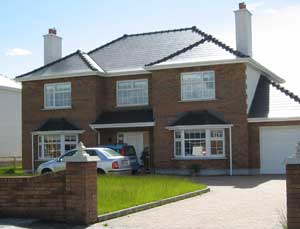 We didn't happen to see several of our friends. Peader Reynolds and Irene had gone to Spain for two weeks. Gerry Mahan was around but we never ran into him. We only saw George Taylor for a minute in O'Carolans. Sadly, we were unable to visit with the Casey's. Thomas had been very ill and had just come home from the hospital, so an impromptu visit was not appropriate. We did not have the chance to see Bernie Reynolds, but we spent some time with John Reynolds and caught him up on our genealogy search.
We met some new friends like Tom the butcher, Vera and Gary transplanted from Germany, two friends of Gerry's both named Mark and many others that we do not know by name. Despite all the heavy rain, we had a great time, but we are always sad to leave. We were lucky to be able to go to Ireland three times since November 2006 and we will go back again, probably next year.
* Taken from the G.A.A. web site.

Disclaimer: LittleShamrocks.com is an affiliate website that receives commissions from sales of the products listed. We have purchased and sampled many, but not all, of the products on these pages.

© Copyright LittleShamrocks.com. All Rights Reserved.