Family Secret Steak Marinade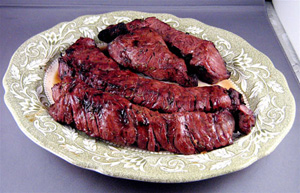 From the kitchen of Aunt Bobbi, Haverhill, Massachusetts.
1/2 Cup Red Wine Vinegar
3/4 Cup Soy Sauce
1/4 Cup Worcester Sauce
2 Tablespoons Dry Mustard
1 Tablespoons Pepper
1 1/2 Teaspoon Parsley
1/3 Cup Lemon Juice
2 Cloves Garlic, split or 1 Tablespoon Minced Garlic
Optional Ingredient:
1 1/2 Cup Salad Oil
Marinade tender cuts of meat like sirloin strips for 3-4 hours. Marinade less tender cuts of meat overnight to tenderize.

Disclaimer: LittleShamrocks.com is an affiliate website that receives commissions from sales of the products listed. We have purchased and sampled many, but not all, of the products on these pages.

© Copyright LittleShamrocks.com. All Rights Reserved.