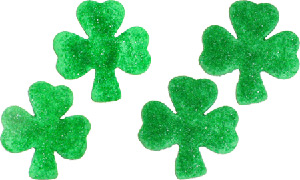 2 Cups All-Purpose Flour
1/4 Teaspoon Salt
3/4 Cup Kerrygold Irish Butter
3/4 Cup White Sugar
1 Large Egg
1 Teaspoon Pure Vanilla Extract
Green Food Coloring
Green Sugar Crystals
In a medium bowl, combine the flour and salt with a wire whisk. In a large mixing bowl, cream the butter and sugar with an electric mixer on medium speed. Add the egg, vanilla, and green food coloring, and beat until well mixed. Scrape down side of bowl, then add the flour mixture. Blend on low speed just until combined. Do not over mix. Gather dough into a ball. Flatten the ball into a disk and wrap tightly in plastic wrap or a plastic bag. Refrigerate 1 hour until firm.
Preheat oven to 325F.
On a floured surface, roll out dough to a 1/4 inch thickness. With shamrock cookie cutter, cut dough and place on ungreased cookie sheets. Sprinkle with green sugar and bake for 13 to 15 minutes, being careful not to brown. Immediately transfer cookies with a spatula to a cool, flat surface. Yield: 2 dozen cookies

Disclaimer: LittleShamrocks.com is an affiliate website that receives commissions from sales of the products listed. We have purchased and sampled many, but not all, of the products on these pages.

© Copyright LittleShamrocks.com. All Rights Reserved.