Christmas Bread Pudding (Microwave Recipe)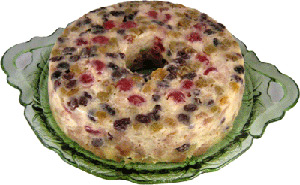 1/2 Cup Golden Raisins
1/2 Cup Raisins
1/3 Cup Bailey's Irish Cream
3/4 Cup Sugar
1 Tablespoon Cornstarch
3 Cups Light Cream
4 Beaten Egg Yolks
2 Teaspoons Vanilla
11 Slices White Bread
10 Slices Whole Wheat Bread
1/2 Cup Whole Red Candied Cherries, halved
In a small mixing bowl combine raisins. In a 1 cup measure, micro-cook Irish Cream, uncovered, on HIGH 45 seconds or until warm; pour over raisins. Let stand 15 minutes.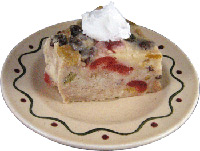 Meanwhile, for custard, in a microwave safe 1-1/2 quart casserole, stir together sugar and cornstarch. Stir in cream. Cook, uncovered, on HIGH 7 to 9 minutes or till bubbly, stirring every 2 minutes until slightly thickened, then after every 30 seconds. Cook, uncovered, for 1 minute more. Gradually stir about half of the hot mixture into egg yolks. Return all to casserole. Cook, uncovered, on HIGH 30 to 60 seconds more or until edges of mixture are bubbly, stirring once. Stir in vanilla.
Remove crust from bread slices; cut into 1/2 inch cubes (should have about 12 cups); toss bread cubes together in a large bowl.
Grease a microwave safe silicone tube pan. Drain the raisins, reserving liquid. Arrange 2 tablespoons of the cherries in the bottom of the tube dish; then sprinkle about 1/4 cup of the drained raisins into the tube dish. Add remaining cherries and raisins to bread cubes. Stir reserved Bailey's Irish Cream into custard mixture. Pour the custard mixture over bread cubes and remaining fruit; toss lightly to mix.
Spoon bread cube mixture into prepared dish. Smooth surface with back of a spoon. Cover with vented microwave safe plastic wrap. Cook on MEDIUM 8 to 10 minutes or until set, giving dish a half turn once. Let cool 5 minutes. Carefully unmold onto a serving plate. Cut into wedges; serve warm with whipped cream or vanilla ice cream. Yield: 12 servings

Disclaimer: LittleShamrocks.com is an affiliate website that receives commissions from sales of the products listed. We have purchased and sampled many, but not all, of the products on these pages.

© Copyright LittleShamrocks.com. All Rights Reserved.