5 Tablespoons Butter, divided
2 Large Leeks, sliced
2 Tablespoons Minced Garlic
2 lb Baking Potatoes, peeled (about 4 medium)
1 Cup Heavy Cream
1 Cup Milk
3 Eggs
2 Teaspoon Salt
1/2 Teaspoon Pepper
3 Slices Day-Old Dense White Bread
2 oz Shredded Parmesan Cheese
Preheat oven to 375F.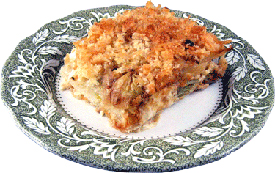 Generously grease shallow 10 cup baking dish with 1 tablespoon butter; set aside. Melt 2 tablespoons butter in large skillet over medium heat. Add leeks and garlic. Cook and stir 8 to 10 minutes or until leeks are softened. Remove from heat; set aside.
Cut potatoes crosswise into 1/16 inch slices. Layer half the potato slices and top with half the leek mixture. Repeat layers. Whisk cream, milk, eggs, salt and pepper in medium bowl until well blended; pour over vegetables in the baking dish.
To prepare bread crumbs, cut bread slices into 1 inch pieces and place in food processor; process until fine crumbs form. Measure 3/4 cup crumbs; place in a small bowl and mix with Parmesan cheese. Melt remaining 2 tablespoons butter and add to crumb mixture; stir. Sprinkle crumb mixture evenly over vegetables.
Bake 50 to 60 minutes or until top is golden and potatoes are tender. Let stand 5 to 10 minutes before serving. Yield: 6 to 8 servings

Disclaimer: LittleShamrocks.com is an affiliate website that receives commissions from sales of the products listed. We have purchased and sampled many, but not all, of the products on these pages.

© Copyright LittleShamrocks.com. All Rights Reserved.