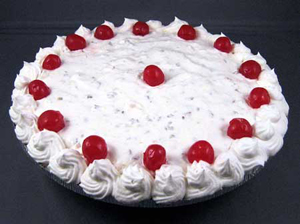 (Makes 2 Pies)
2 Graham Cracker Pie Crusts
2 Small Cans Crushed Pineapple, drained
1 Can Sweetened Condensed Milk
1 1/3 Cups Flaked Coconut
1 Cup Chopped Pecans, toasted
2 9 oz Containers of Non-Dairy Whipped Topping
2 Tablespoons Lemon Juice
Mix all ingredients until well blended. Divide between the two crusts. Refrigerate until firm. Decorate with whipped cream and Maraschino cherries.

Disclaimer: LittleShamrocks.com is an affiliate website that receives commissions from sales of the products listed. We have purchased and sampled many, but not all, of the products on these pages.

© Copyright LittleShamrocks.com. All Rights Reserved.