Mother's Christmas Plum Pudding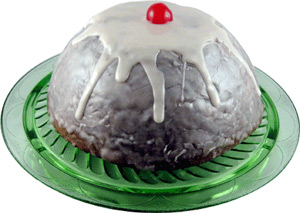 From the Kitchen of Tina Slevin
Coolabawn House - Mohill, Co. Leitrim
4 oz All-Purpose Flour
4 oz Freshly Made Soft White Bread Crumbs
4 Eggs
1/2 lb Butter
1/2 lb Sugar
12 oz Sultanas
12 oz Raisins
8 oz Currants
4 oz Citron (mixed peel)
1 Lemon, juice & grated rind
2 Rounded Teaspoons Allspice
2 Rounded Teaspoons Nutmeg
1 Cup plus 3 Tablespoons Guinness Stout
Melt margarine and add sugar. In a separate bowl, beat eggs and add to fruit and breadcrumbs. Allow the sugar to dissolve in the margarine, but DO NOT BOIL. Add all the fruit and the stout to melted margarine and sugar. Combine the flour and spices, then add to the mixture and mix well.
Pour into a greased Pyrex bowl and steam for about 3 hours in a Bain-marie or covered double boiler. Carefully turn out onto a plate while the bowl is still warm. Serve in wedges with the topping of your choice (ice cream, whipped cream, hard sauce, brandy butter, drizzled icing, etc.).
Optional: You can divide the batter into two smaller bowls and follow the same directions.

Disclaimer: LittleShamrocks.com is an affiliate website that receives commissions from sales of the products listed. We have purchased and sampled many, but not all, of the products on these pages.

© Copyright LittleShamrocks.com. All Rights Reserved.