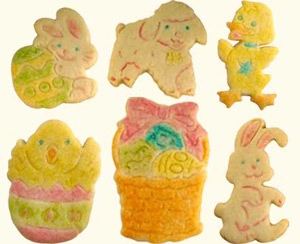 2 Cups All-Purpose Flour
1/4 Teaspoonn Salt
3/4 Cup Kerrygold Irish Butter
3/4 Cup White Sugar
1 Large Egg
1 Teaspoon Pure Vanilla Extract
Assorted Easter Cookie Cutters
Assorted Liquid Food Coloring
Fine Tipped Paintbrushes (1 for each color)
In a medium bowl, combine the flour and salt with a wire whisk. In a large mixing bowl, cream the butter and sugar with an electric mixer on medium speed. Add the egg and vanilla, and beat until well mixed. Scrape down side of bowl, then add the flour mixture. Blend on low speed just until combined. Do not over mix. Gather dough into a ball. Flatten the ball into a disk and wrap tightly in plastic wrap or a plastic bag. Refrigerate 1 hour until firm.
Preheat oven to 325F.
On a floured surface, roll out dough to a 1/4 inch thickness. With the cookie cutters, cut dough and place on ungreased cookie sheets lined with parchment paper. Bake for 13 to 15 minutes, being careful not to brown. Immediately transfer cookies with a spatula to a cool, flat surface. When completely cool, place a few drops of each food coloring into however many containers you want for colors. There are usually instructions on the box to make more colors than the 4 that come in the package. Add water; the less water - the brighter the color, but for Easter I like to make them pale or pastel, so I add more water. Using fine tipped paintbrushes, dip into the color and apply to the cookie. For white, I leave that part of the cookie unpainted. Yield: 2 dozen cookies

Disclaimer: LittleShamrocks.com is an affiliate website that receives commissions from sales of the products listed. We have purchased and sampled many, but not all, of the products on these pages.

© Copyright LittleShamrocks.com. All Rights Reserved.