Tyna's Snow-Capped Lemon Fairy Cakes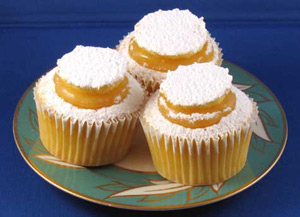 4 Egg Yolks
2/3 Cup Sugar
1/2 Teaspoon Grated Lemon Peel
1 Tablespoon Lemon Juice
4 Egg Whites
2/3 Cups Sifted Cake Flour
1/4 Teaspoon Salt
2 12-Count Muffin Tins
24 Cupcakes Papers
1 Jar
Chivers Lemon Curd
1/2 Cup Confectioner's Sugar
Preheat oven to 375F.
Beat egg yolks till thick and lemon colored. Gradually add 1/3 cup sugar, beating constantly.
Stir in lemon peel and juice. Beat egg whites till soft peaks form; gradually add remaining 1/3 cup sugar and beat till stiff peaks form.
Gently fold yolks into whites. Sift together flour and salt; fold into egg mixture. Fill papers in bake cups half full. Bake at 375 for about 20 minutes. Remove cakes from tins and cool completely on a wire rack.
Using a sharp narrow bladed knife, cut into the top center of each cake, removing cone shape and set aside. Fill each cavity with about 1 teaspoon of lemon curd.
Replace the "cones" into the filling on each cake and dust with confectioner's sugar.
Yield: 24 cakes.
Note:
If you prefer, any lemon flavored cake mix works as well.

Disclaimer: LittleShamrocks.com is an affiliate website that receives commissions from sales of the products listed. We have purchased and sampled many, but not all, of the products on these pages.

© Copyright LittleShamrocks.com. All Rights Reserved.