Tyna's Tangy Tomato & Cheese Pizza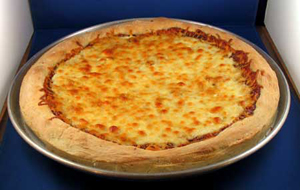 Recipe for
my favorite pizza
crust
1 Large Prepared Pizza Crust 12" to 14" in Diameter*
1 Jar
Ballymaloe Country Relish
2 Cups Shredded Mozzarella Cheese
Preheat oven to 400F.
Place pizza crust in a very lightly greased pizza pan. Pour out and spread the entire jar of relish evenly over prepared pizza crust.
Sprinkle the cheese evenly over the top. Add any of your favorite toppings, if desired. (My favorite is 1 cup of crumbled crisp bacon and 1 small can of sliced black olives.)
Bake for 30 minutes at 400. Remove from oven and cut into 8 wedges.

Disclaimer: LittleShamrocks.com is an affiliate website that receives commissions from sales of the products listed. We have purchased and sampled many, but not all, of the products on these pages.

© Copyright LittleShamrocks.com. All Rights Reserved.