Oatmeal Maple Drop Cookies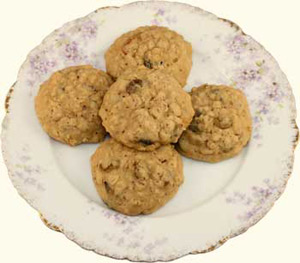 1/2 Cup Butter or Margarine
1 Cup Maple Syrup
1 Egg
1 Teaspoon Vanilla Extract
1 1/2 Cups All-Purpose Flour
1 Teaspoon Salt
2 Teaspoon Baking Powder
1/4 Cup Milk
1 1/2 Cups Rolled Oats
1/2 Cup Raisins
1/2 Cup Chopped Nuts
Preheat oven to 375F.
Cream together the butter or margarine and maple syrup in a large bowl. Add the remaining ingredients in the order listed. Mix well; the batter will be stiff. Drop by the tablespoon onto greased cookie sheets.
Bake in at 375F for 12-15 minutes. Remove the cookies to wire racks; cool. Makes 36-42 cookies.

Disclaimer: LittleShamrocks.com is an affiliate website that receives commissions from sales of the products listed. We have purchased and sampled many, but not all, of the products on these pages.

© Copyright LittleShamrocks.com. All Rights Reserved.