Irish Bangers in a Blanket Decorated as Mummies for Halloween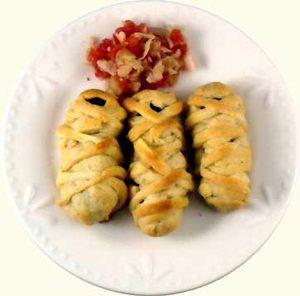 8 Cooked Irish
Sausages or Bangers
1 Can Refrigerated Crescent Rolls
Preheat oven to 375F.
Unroll the crescent rolls into 8 pieces. Place one sausage into the center and fold over and secure at the top and bottom. Cut strips into the side pieces and crisscross one strip on one side, then one from the other side. Continue until all strips are crossed and secured. Bake at 375F for 12 minutes. Serve warm with relish, chutney or dip.

Disclaimer: LittleShamrocks.com is an affiliate website that receives commissions from sales of the products listed. We have purchased and sampled many, but not all, of the products on these pages.

© Copyright LittleShamrocks.com. All Rights Reserved.