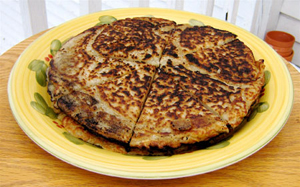 1 lb Boiled Mashed Potato (2 Cups)
1 lb Grated Raw Potato (2 Cups)
2 Teaspoons Salt
1/2 lb Flour (1 Cup)
I find it much easier using a
cast iron griddle
for this recipe for Boxty.
Mix ingredients together; divide in half and cook on a preheated griddle or 10 inch frying pan on medium heat, flipping once when the outside edges look dry and golden brown.
Yield: 2 large potato cakes

More information on our
Boxtie
story page.

Disclaimer: LittleShamrocks.com is an affiliate website that receives commissions from sales of the products listed. We have purchased and sampled many, but not all, of the products on these pages.

© Copyright LittleShamrocks.com. All Rights Reserved.