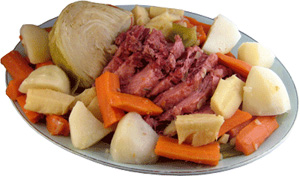 1 Corned Beef Brisket (about 5 lb)
2 Medium Onion, peeled and quartered
4 Black Peppercorns
1 Bay Leaf
1/2 Teaspon Rosemary, crushed
1 Quart Water
6 Medium Potatoes, peeled and quartered
6 Medium Carrots, peeled and cut into 2" pieces
6 Parsnips, peeled and cut into 2" pieces
1 Cup Celery, cut into 2" pieces
1 Medium Head Green Cabbage, cut into 8 wedges
Place beef in large
Dutch oven
with tight-fitting lid. Add onion, peppercorns, bay leaf, rosemary and water. Bring to a boil; simmer covered for 3-1/2 hours or until meat is fork tender.
Add potatoes, carrots, parsnips and celery to Dutch oven. Place cabbage on top of meat. Cover and cook for 1 hour or until vegetables are tender.
Remove vegetables and meat to large platter. Serve with mustard or horseradish. Yield: 12 servings

Disclaimer: LittleShamrocks.com is an affiliate website that receives commissions from sales of the products listed. We have purchased and sampled many, but not all, of the products on these pages.

© Copyright LittleShamrocks.com. All Rights Reserved.