Irish Carrot-Raisin Cake with Irish Cream Frosting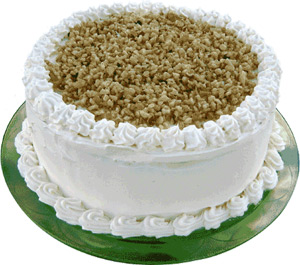 2 1/2 Cups All-Purpose Flour
1 1/2 Tablespoons Baking Powder
1/2 Teaspoon Salt
2 Teaspoons Cinnamon
1/8 Teaspoon Freshly Grated Nutmeg
1/4 Teaspoon Allspice
2 Sticks (1 Cup) Unsalted Butter, softened
1 Cup Firmly Packed Brown Sugar
4 Large Eggs
2 1/2 Cups Finely Grated Carrot
1/2 Cup Raisins
1/2 Cup Finely Chopped Walnuts, plus extra for sprinkling on top
2 Teaspoons Freshly Grated Orange Zest
1/4 Cup Fresh Orange Juice
Preheat oven to 350F.
In a bowl combine well flour, baking powder, salt, cinnamon, nutmeg, and allspice. In another bowl with an electric mixer cream the butter with the brown sugar until the mixture is light and fluffy, beat in the eggs, one at a time, beating well after each addition, and beat the mixture until it is smooth. Add the carrot, raisins, walnuts and zest, and combine the mixture well. Stir in the flour mixture alternately with the orange juice in two batches and stir the batter until it is combined well.
Divide the batter between two greased and floured 8-inch round cake pans, spreading it evenly, and bake the layers in the middle of a pre-heated 350F oven for 40 to 45 minutes, or until a tester comes out clean and the edges begin to pull away from the sides of the pans. Let the layers cool in the pans for 20 minutes, invert them onto racks, and let them cool completely. The cake layers may be made one day in advance and kept, wrapped well, at room temperature.
Irish Cream Frosting:
2 Sticks (1 Cup) Unsalted Butter, softened
2 1/4 Cups Confectioners Sugar
1/2 Teaspoon Salt
1/4 Cup Irish Cream Liqueur
Confectioners Sugar for sifting over the cake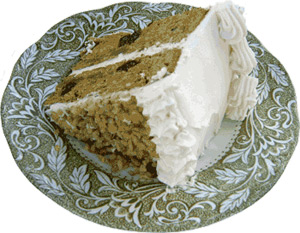 In a bowl with an electric mixer cream the butter until it is smooth, beat in the confectioners sugar gradually, and beat in the salt and the Irish cream. Beat the frosting until it is light and fluffy.
Assembling The Cake:
Invert one of the cake layers onto a plate, spread one-third of the frosting on top, and top it with the second layer. Spread the frosting on the top and side of the cake; reserve the remaining frosting in a pastry bag fitted with a star tip. Sprinkle the top of the cake with walnuts, then pipe the reserved frosting decoratively around the top and bottom edges of the cake.

Disclaimer: LittleShamrocks.com is an affiliate website that receives commissions from sales of the products listed. We have purchased and sampled many, but not all, of the products on these pages.

© Copyright LittleShamrocks.com. All Rights Reserved.