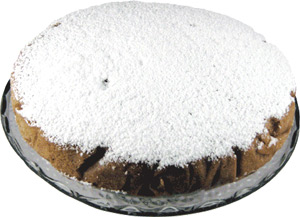 From the Kitchen of Tina Slevin Coolabawn House - Mohill, Co. Leitrim
1/2 lb Margarine
1/2 lb Sugar
1 lb All-Purpose Flour
1 Lemon, juice and grated rind
1/2 lb Raisins
1/2 lb Sultanas
3 Large Eggs
1/4 lb Citron (mixed peel)
1 Cup plus 3 Tablespoons Guinness Stout
1 Teaspoon Allspice
1/2 Teaspoon Baking Soda
Preheat oven to 250F.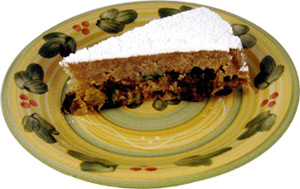 Melt margarine and add sugar. In a separate bowl, beat eggs and add baking soda. Allow the sugar to dissolve in the margarine, but DO NOT BOIL. Add all the fruit and the stout to melted margarine and sugar. Then add eggs and baking soda mixture and stir. Combine the flour and spice, then add to the mixture and mix well.
Line bottom and sides of a deep 9-inch cake tin with parchment paper, using cooking spray to hold it in place. Pour batter into the tin and bake in a cool oven (250F) for 2-1/2 hours. Cool on a wire rack. Dust with confectioner's sugar. This is a dense cake and should be served in thin wedges.

Disclaimer: LittleShamrocks.com is an affiliate website that receives commissions from sales of the products listed. We have purchased and sampled many, but not all, of the products on these pages.

© Copyright LittleShamrocks.com. All Rights Reserved.