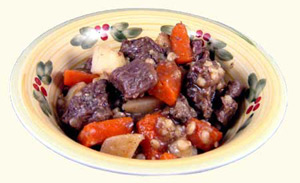 2 lb Lean Beef Chuck, cut in 1 inch cubes
2 Tablespoons Vegetable Oil
1 Teaspoon Worcestershire Sauce
1 Clove Garlic, minced
1 Medium Onion, quartered
1 Large Bay Leaf
1 Tablespoon Salt
1/2 Teaspoon Pepper
1/2 Teaspoon Paprika
Dash Ground Cloves
4 Parsnips, pealed, quartered and cut into 1 inch pieces
6 Carrots, pealed, quartered and cut into 1 inch pieces
4 Potatoes, pealed, quartered and cut into 1 inch pieces
1/2 Cup Pearl Barley
There's nothing more frustrating than to chop or slice with a dull knife. I always make sure that my cutlery set trackingis razor sharp.
Heat the oil until hot in a Dutch oven, thoroughly brown the meat on all sides, turning often. Add 2 cups hot water, the next 8 ingredients and the barley.
Cover; simmer for 1 1/2 hours, stirring occasionally to keep from sticking. Remove bay leaf. Add vegetables; cover and cook 30 to 45 minutes, or till vegetables are tender. Skim any fat from the liquid.
Combine 1/4 cup cold water with 2 tablespoons cornstarch. Stir slowly into hot liquid. Cook and stir until bubbly for about 3 minutes. Serve stew in bowls. Serves 6 to 8

Disclaimer: LittleShamrocks.com is an affiliate website that receives commissions from sales of the products listed. We have purchased and sampled many, but not all, of the products on these pages.

© Copyright LittleShamrocks.com. All Rights Reserved.