Cake Recipes

We have a variety of Cake Recipes and Frosting Recipes to prepare for dessert or as a gift during the Holidays. We all love baked goods, especially cake and frosting recipes!

Our cake recipes section has grown so much that we now have Irish Cakes Recipes & Cake Recipes on separate pages.
In addition to the Irish Cake recipes above here are some of our very favorite cake & frosting recipes for you to try.
Quick Cherry & Cream Cheese Dessert Cake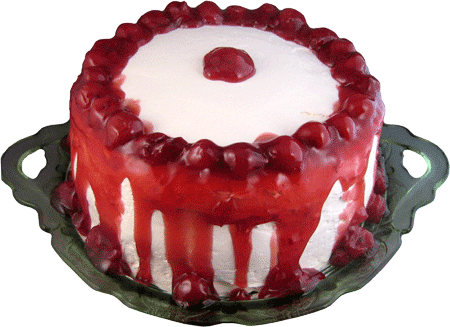 This yummy cake is something that I concocted almost 40 years ago. It's a very quick and easy last minute dessert for a dinner party. It presents itself as a striking delicacy that took hours to make but it's our secret. Shhhhh!
1 white cake mix
1 16 ounce tub Cool Whip
2 8 oz. packages cream cheese, softened
1 can cherry pie filling
Prepare the cake as directed on the package for two 8 inch or 9 inch layers. While the cake is cooling, prepare the frosting. With an electric mixer, beat the cream cheese until smooth. Add the entire tub of Cool Whip and beat thoroughly until well blended, leaving no lumps of cream cheese.
Using about 1/3 of the cream cheese mixture, spread the top of the bottom layer out to the edges. Spread about half the cherry pie filling on top of the cream cheese to about 1 inch from the edge. Place the top layer on top. Frost the sides of the cake carefully, not to disturb the cherry pie filling. Finish up by frosting the top.
Spoon on the remaining pie filling around the edge of the top. While trying to keep some of the cherries along the top edge, let the filling drizzle down the sides. Refrigerate until served, then keep refrigerated. You may use another flavor of pie filling if desired.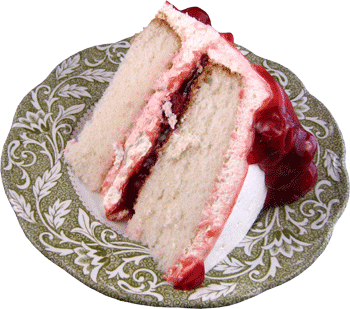 Tyna's Two Christmas Cakes in One
Jolly Santa Cake
Festive Christmas Tree Cake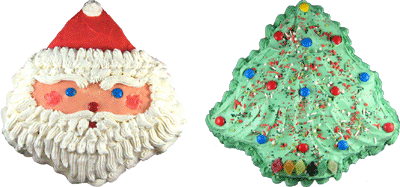 These two cakes are a big hit with children and are fun to make and give as gifts. They are also a very popular and festive item to bring to a Christmas party.

2 Christmas tree cake pans
1 two-layer prepared cake recipe or cake mix, any flavor
1 recipe prepared Best Cream Frosting
green gel food coloring
red gel food coloring
1 drop each of red & yellow liquid food coloring
assorted Christmas sprinkles
assorted plain M & M candies
Using the Christmas tree cake pans, divide batter evenly between the two pans. Bake according to directions on box. Cool completely on a wire rack. Divide the frosting evenly into two bowls, setting one bowl aside. Use enough green gel food coloring to make a rich green color for the Festive Christmas Tree Cake. Frost the cake and spread frosting to look like tree boughs. Decorate with M & M candies and sprinkles; place in the refrigerator to set the frosting.
For the Jolly Santa Cake, using a sharp knife, trim off the tips of the side 'branches' and round off the tree trunk edges; then brush away any crumbs. Using the other bowl of frosting, frost the bottom 2/3 of the cake in white. Put about 1/4 cup of frosting into a small dish with the liquid food coloring for Santa's face.
Thinly spread face frosting into an elongated rectangle, using the photo as a guide. Again, using the photo as a guide, place 2 blue M & M's for his eyes, 1 red for his nose and 1 red for his mouth. Place about 3/4 cup of the frosting into a small bowl and dye it a bright red with the red gel food coloring.
Frost the top 1/3 of the cake with the red for Santa's hat. Place the remaining white frosting into a decorating bag with a star tip and pipe out his hair, eyebrows, mustache and beard. Pipe out a white border and a pompom for the top of his hat. Voila ... Two cakes in one! Enjoy!

Pumpkin & Cream Cheese Roll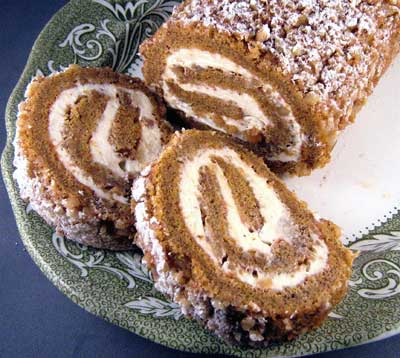 3 eggs
1 c. sugar
2/3 c. pumpkin
1 tsp. lemon juice
3/4 c. flour
1 tsp. baking powder
1 tsp. ginger
2 tsp. cinnamon
1/2 tsp. nutmeg
1 c. finely chopped walnuts
Oven 375F
Beat eggs on high speed for 3 minutes. Add sugar and lemon juice; beat for 2 minutes. Fold in pumpkin. Sift together flour, baking powder, ginger, nutmeg and cinnamon. Fold into egg and pumpkin mixture.
Pour onto a well greased and floured cookie sheet; sprinkle with walnuts. Bake at 375 degrees for 15 minutes or until cake is golden brown. Flip out of cookie sheet onto a tea towel covered with powdered sugar. Put more powdered sugar on top of cake and roll in jelly roll fashion. Cool completely.
PUMPKIN CREAM ROLL FILLING: (or use my Best Cream Frosting Recipe)
1 8 oz. pkg. cream cheese
4 tbsp. butter
1 c. powdered sugar
1 tsp. vanilla
dash of salt
Have cream cheese and butter at room temperature. Mix all filling ingredients together and beat until soft and fluffy. Unroll COOLED cake. Spread filling evenly on top and re-roll. Dust with powdered sugar. Slice in one-inch slices and serve. Keep refrigerated.

No-Bake Layered Ice Cream Cake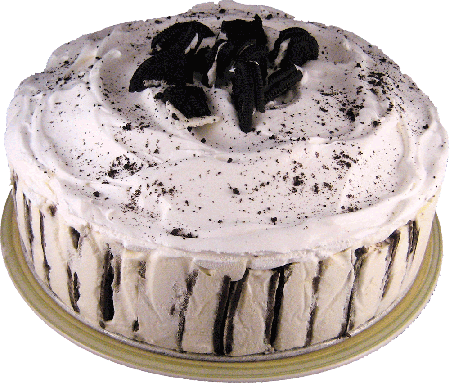 (Taken from July 2007 Issue of Family Circle Magazine)
My granddaughter loves ice cream, so I chose to make this cake for her recent birthday.
15 chocolate and cream sandwich cookies (like Oreo)
1 tbsp. milk
8-9 ice cream sandwiches
3 flavors of ice cream, one pint of each flavor
1 container of frozen whipped topping, thawed
Coat bottom and side of a 10-inch round spring form pan with nonstick cooking spray. Line side with waxed paper, using spray to help adhere to pan. Trim paper to height of pan.
Finely crush 12 of the cookies in a food processor. Add milk; pulse just until mixture holds together. Set aside.
Unwrap 4 ice cream sandwiches at a time. Working quickly, cut each in quarters. Stack strips of sandwiches on end, packing them snugly together, around waxed paper lined pan. Repeat with remaining sandwiches to form a stand-up edge. Spoon cookie crumbs into center of pan; press firmly over bottom. Freeze 1 hour.
Remove all 3 flavors of ice cream from freezer and let soften for 15 minutes at room temperature. Transfer the ice cream, one flavor at a time, into a small bowl and stir until good spreading consistency but still firm. Remove the pan from the freezer and spread the three layers of ice cream, spreading each layer level. Top with thawed whipped topping, swirling top decoratively. Crush the remaining 3 sandwich cookies and sprinkle over the cake. Return to freezer; freeze overnight.
To serve, remove side of pan, then waxed paper. Place on a cake plate and cut into wedges. Yield: 12 servings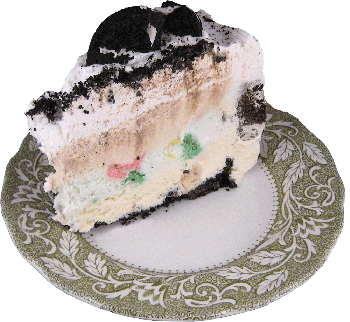 Mrs. Milman's Dark Chocolate Frosting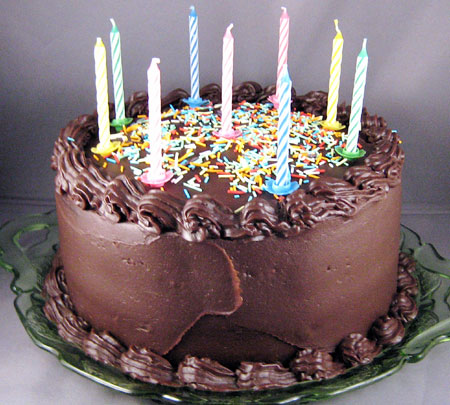 As seen on the Martha Stewart Show
My sister is a total chocoholic, especially for dark chocolate. I made this recipe for her recent birthday. This is a dark, fudgy frosting, and she loved it!

2 12 oz. packages of semi-sweet chocolate morsels
1 quart heavy cream

Using a medium saucepan, pour in the cream and morsels. Stir constantly for 30 minutes until chocolate is melted and mixture becomes thick.
Transfer into a wide metal bowl and refrigerate for two hours, stirring every 15 minutes. Frost cake immediately.
This recipe makes 6 cups, which is enough for a 3 layer cake.

Bunny Cake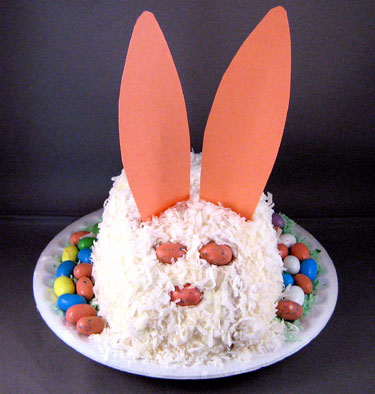 2 8 inch layers of prepared cake mix, any flavor
2 containers prepared vanilla frosting
1 package flaked coconut
2 large marshmallows
2 pairs of pink stiff paper ears
jellybeans
Cut each layer in half across the middle. Frost the flat side of one half and top with flat side of the other half. Stand them up with the cut side down on a plate.
Frost the outside generously. Pat on the flaked coconut to cover all the frosting. Almost in the middle of the top insert the paper ears. Press in pink jelly beans for the eyes and nose; press on a marshmallow for the tail.
Color some coconut with a few drops of green food coloring for the grass. Sprinkle around the bunny on the plate and place some jellybeans in the grass.
Yield: 2 bunny cakes

Deluxe Holiday Cheesecake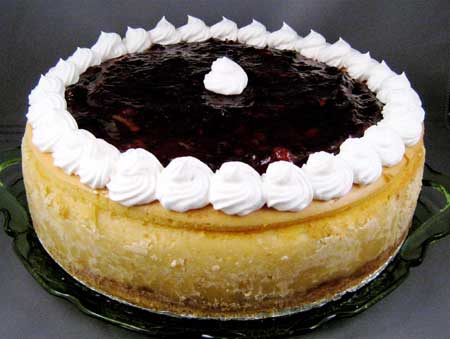 (Begin early in the day or a day ahead)
Pastry:
1-1/4 c. all-purpose flour
3/4 c. butter (1 1/2 sticks), softened
1/4 c. sugar
1 lg. egg yolk
grated peel of 1 small lemon
Filling:
5 8-oz. packages cream cheese, softened
1-3/4 c. sugar
5 lg. eggs
1/4 c. milk
3 tbsp. all-purpose flour
2 lg. egg yolks
grated peel of 1 small lemon
Topping:
1 can whole berry cranberry sauce
1/3 c. orange marmalade
1/4 c. sugar
dash nutmeg
First prepare pastry dough: In a small bowl, with mixer at low speed, beat flour, butter, sugar, egg yolk and grated lemon peel until well mixed. Shape dough into ball; wrap with plastic wrap and refrigerate 1 hour.
Preheat oven to 400 F. Press 1/3 of dough onto bottom of 10 x 2-1/2 inch springform pan; keep remaining dough refrigerated. Bake crust 8 minutes or until golden; cool in pan on wire rack. Turn oven control to 475 F.
While crust is cooling, prepare filling: In large bowl, with mixer at medium speed, beat cream cheese just until smooth; slowly beat in sugar, scraping bowl often with rubber spatula. Add eggs, milk, flour, egg yolks and lemon peel; beat 5 minutes, occasionally scraping bowl.
Press remaining dough around side of pan to within 1 inch of top. Pour creamed mixture into crust. Bake cheesecake 12 minutes. Turn oven control to 300 F.; bake 35 minutes longer. Turn oven off; let cheesecake remain in oven 30 minutes.
Remove cheesecake from oven; cool completely in pan on wire rack. Cover and refrigerate at least 4 hours or until well chilled.
When cheesecake is firm, with spatula, loosen pan side from cheesecake and remove; loosen cake from pan bottom; slide onto serving plate.
Whole berry cranberry sauce topping: In a small pan, on low heat, mix together cranberry sauce, marmalade, sugar, nutmeg until it just comes to a boil. Remove from heat and let cool completely. Top cheesecake with sauce and chill for at least 2 hours. Decorate with whipped cream before serving.
Yield: 20 servings

Chocolate Mayonnaise Cake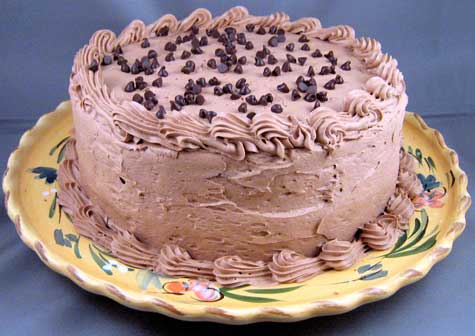 2 Cups flour
1 Cup sugar
1 Cup mayonnaise
1 Cup water
2 Teaspoons baking soda
1 Teaspoon Vanilla
4 Tablespoons cocoa powder
Oven 350
Mix all ingredients until smooth. Pour into two 8 inch cake pans, greased and floured. Bake at 350 for 25 to 30 minutes, or until a toothpick inserted in the center comes out clean. Cool completely on a wire rack. Frost with your favorite flavor icing or try my recipe for Best Buttercream Frosting.
Best Buttercream Frosting
4 Sticks unsalted butter, softened
1 16 ounce tub marshmallow cream
2 Cups confectioners' sugar
2 Teaspoons vanilla extract

Beat butter in a large bowl with mixer on medium speed until creamy. Beat in marshmallow cream until well blended. Reduce speed to low; beat in confectioners' sugar and vanilla. Increase speed to high and beat 3 to 4 minutes until fluffy.
For Chocolate Buttercream add 8 tablespoons dark cocoa powder.

Click here for our selection of Irish Cake Recipes
Next

Tyna's selection of pie recipes that are easy to make and sure to please.

Items from our online store that go great with Irish cakes or for dessert.
***SOCIALIZEIT***
Home - What's New - Site Search - Irish Food Recipes - Ireland Travel Stories
Site Map - Ireland Accommodations - Irish Food Store - About Us - Contact Us

Copyright © 2006-2011 LittleShamrocks.com. All rights reserved.
LittleShamrocks.com is an affiliate website that receives commissions
from sales of the products listed. We have purchased and sampled
many, but not all, of the products on these pages.
Web site by Wild Goose Web Design